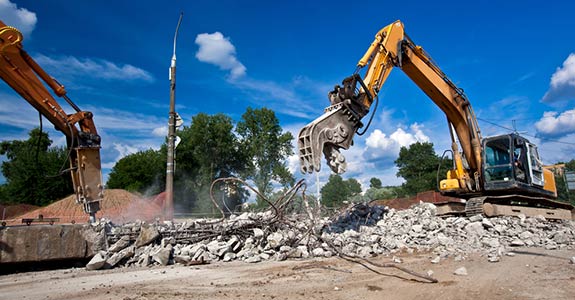 Purchasing a vacant lot doesn't always mean the lot is truly empty. While you may have big plans for your new lot, you still need to figure out what to do with the remnants of old buildings or the wildlife preserve that seems to exist on your new property. One thing's for certain: this isn't a task for amateurs. When you need top-notch lot clearing or demolition services in Newport, TN, call Tommy Crowder Excavating. We'll get your lot cleaned and cleared and have it ready for you to build on in no time, and you can always trust that we'll do the job efficiently, responsibly and to the fullest extent possible. Here's a look at our services:
Demolition services: When you're preparing to construct a new building on a site that's already been built upon, you need a demolition team you can be sure will remove every last piece of the existing structure so you can safely begin construction. Tommy Crowder Excavating specializes in removing old buildings and structures, and we'll work to make sure your lot is ready for construction as soon as possible.
Land clearing services: If you've purchased an overgrown lot or have plans to finally build on a lot you've owned for years, the last thing you want to do is spent your own time clearing the plant life that's taken it over. We'll handle the removal of trees, shrubs and other plant life so you're left with a clean, clear lot and can focus more fully on the construction process.
When you're in need of safe, thorough and highly professional demolition services and land clearing services in Newport, TN, be sure to call Tommy Crowder Excavating at 423-623-9370. We'll provide the fine workmanship and quality service we've been known for since 1980, any time and every time. Contact us today for demolition work, hauling, excavation, septic system service, and more!